What constitutes a violation of the Family Medical Leave Act?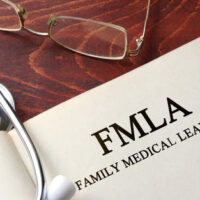 The Family Medical Leave Act (FMLA) is a federal law that allows eligible employees to take unpaid leave to manage certain family or medical situations. In theory, if an employee meets the criteria, they are entitled to as much as 12 weeks' unpaid leave per calendar year. However, some employers do deny FMLA requests for unethical or improper reasons. If you have had your FMLA request denied for a reason you believe is unethical, you should seek legal assistance.
Specific Requirements For Eligibility
Eligibility for FMLA leave requires a two-part showing. The law applies to public agencies, all elementary and secondary schools, and private companies with 50 or more employees. In order to file for leave under the FMLA, two criteria must be met. The first is to be experiencing one of a few certain situations. They are:
The birth or care of a newborn child;
Dealing with the adoption or temporary placement of a child with the employee;
Medical leave to focus on dealing with a "serious health condition;" or
Taking care of an immediate family member (spouse, child, or parent) with a serious health condition.
The other part of showing eligibility is having worked for your employer for a certain period of time. If you have worked for your employer for at least 12 months (though those need not be consecutive months), and have worked for your employer for at least 1,250 hours in the last calendar year, at a location which employs at least 50 employees within 75 miles, you should, barring any rare complications, be granted leave to handle any of the specified situations.
Seeking Compensation
There are several ways that an employer can intentionally or unintentionally violate the FMLA. Some examples include failing to grant leave in the first place when an employee is qualified, discontinuing health care coverage, asking for confidential medical information as a condition of granting an FMLA request, or retaliating against an employee for using their FMLA leave to begin with. A misunderstanding can be dealt with, but if your employer is intentionally standing in your way, you may have to resort to more serious legal options.
The way to deal with FMLA violations is to file both a lawsuit and a complaint with the U.S. Department of Labor; more specifically, with the Wage & Hour Division. If it can be proven that your employer has violated the FMLA, you may be entitled to damages, as well as getting your position back (or a comparable one). You have every right to seek redress if your rights are violated.
Contact A New York FMLA Violations Attorney
While someone in New York who has been denied for FMLA leave may have other options – for example, taking Paid Family Leave (PFL) under New York state law – but if you have been mistreated or discriminated against, you have the right to seek a fair solution. The New York City Family & Medical Leave Act attorneys from Mansell Law, LLC can sit down with you and try to help answer any questions about your case. Contact our offices today at 646-921-8900, or via our website, to speak to an attorney.
Resource:
ecfr.gov/cgi-bin/text-idx?c=ecfr&sid=abbd92cdff37c5d32de741cc5ccc1e81&rgn=div5&view=text&node=29:3.1.1.3.54&idno=29#se29.3.825_1401