New York Wage & Hour Claims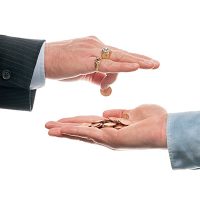 A wage & hour claim is a lawsuit regarding an employee's compensation, and the work they must perform for that compensation. Wage theft is a common issue for workers, particularly those who are paid by the hour; the Economic Policy Institute (EPI) estimates that over $3 billion in "stolen" wages was recovered and repaid to workers by the U.S. Department of Labor. If you suspect that you are not receiving the compensation to which you are entitled, contacting an employment lawyer is crucial.
Many Types of Wage Theft
There are several different employer actions that can fall under the umbrella of wage theft. Some of the most common examples include:
Failing to pay minimum wage and/or overtime;
Coercing or otherwise pushing employees to work while off the clock;
Misclassification of employees as independent contractors, which can deny them certain pay and other benefits;
Denying rest or meal breaks when previously promised (New York law does not require breaks, but if breaks are granted, they must be paid);
Stealing tips;
Refusing to pay owed commissions, or holding commissions "hostage" until other work is performed; and
Any other action that denies an employee a benefit to which they are entitled.
While these types of wage violations occur in every industry, it is worth noting that the thresholds may differ – for example, the minimum wage and salary cut-off for overtime pay differ between counties. New York City's minimum wage is $15.00 per hour as of this writing, but in, say, Rockland County, the minimum wage is $13.20 per hour. (Eventually all counties in New York must have a minimum wage of $15.00 per hour, but this change is to occur slowly over the next few years.)
Next Steps
If you suspect that you have not received the pay or other compensation that you are owed, you have several options, depending on the specifics of your situation. New York employers have a lot of latitude in determining employee compensation, but they must act within the limits of the law – not only New York City and/or State law, but also the federal Fair Labor Standards Act (FLSA). Minimum wage and overtime regulations, in particular, are set in stone, and any failure to abide by them is actionable.
If you believe that you have a case, you can file a complaint against your employer with the New York State Department of Labor. The Department will help you to try and claim what you are owed, but if this effort fails, it is possible to file suit against your employer and potentially prevail. Keep in mind that if your employer attempts to retaliate against you for filing your wage & hour claim, you can then file a charge with state authorities, or with the federal Equal Employment Opportunity Commission (EEOC), and seek more damages.
Contact A New York Employment Lawyer
It can sometimes be difficult to determine that you have been a victim of wage theft, but if you have, you have the right to take back what is yours. A New York City frequent wage violation lawyer from Mansell Law, LLC can help to answer any questions you may have, and to ensure that your rights are protected during the legal process. Contact our office at 646-921-8900 for a free consultation.
Source:
epi.org/publication/wage-theft-2021/