How is religious discrimination handled in New York City?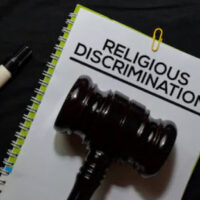 New York City has one of the most expansive human rights laws in the United States, which goes a long way toward ensuring that as many people as possible have the right to seek justice if they have experienced discrimination, particularly in housing or employment. Claims are filed on a host of bases, including disability, gender, and religion. A recent case before the city's Human Rights Commission (CCHR) furthers precedent of how claims of religious discrimination in particular should be handled.
Credible Allegations Of Discrimination
In 2017, an airport contractor called Pax Assist found itself on the receiving end of both a commission-initiated complaint (originating from the CCHR) and a public complaint from its workers, alleging discrimination against Muslims. Pax Assist staff alleged that the company's Muslim employees were being denied breaks for daily prayers and to break their fast during Ramadan. The complaint was timely filed, within 1 year of the last alleged discriminatory action, after which the CCHR started an investigation.
During that investigation period, the commission uncovered further evidence of intentional discrimination – for example, several employees being verbally abused or hearing derogatory or Islamophobic remarks made about other coworkers within their hearing. 'Other issues' were also discovered that the commission did not elaborate upon, but enough evidence was found to to argue Pax Assist had violated the New York City Human Rights Law (NYCHRL).
Right To Accommodation Is Presumed
The NYCHRL states in words of one syllable that no employee may be treated differently because of their (real or perceived) faith, or lack thereof. If an employee requests a religious accommodation, an employer is meant to grant it unless they can show it would pose an undue hardship to do so. For example, if a business has 5 total employees, and one asks to always have Fridays off so they can attend Jewish Shabbos services, the employer may say this is an undue hardship because of their lack of employees. However, a company with 50 total employees may find this easier to accommodate, so they would be obligated to grant the request.
It is important to keep in mind that in New York City, at least, an employee does not have to present any proof of their religious beliefs, nor do those beliefs have to be from a "mainstream" religion. Any "sincerely held" religious belief is considered sufficient to warrant accommodation, and at least in New York City, religious beliefs are presumed to be sincerely held unless evidence can be shown to the contrary. If Pax Assist were to doubt the sincerity of their Muslim employees, they would still be on the proverbial hook for their discriminatory treatment.
Contact A New York City Employment Discrimination Attorney
Pax Assist was able to reach a settlement with their workers, including the paying of civil penalties, create or update their policies on religious accommodations, and make postings of the relevant portions of the NYCHRL, among other consequences. If you believe that you have suffered discrimination on the basis of your faith – or on the basis of any other characteristic covered under the NYCHRL – calling a New York City employment discrimination attorney from Mansell Law, LLC can help answer any questions you might have and determine the best way for you to move forward. Call our offices today at 646-921-8900 for a free consultation.
Resources:
nyc.gov/assets/cchr/downloads/pdf/publications/ProtectionsAgainstReligiousDiscrimination_brochure.pdf
amny.com/news/city-settles-religious-discrimination-lawsuit-with-contractor-for-jfk-and-laguardia-airports/