What Protections Do I have As A Whistleblower?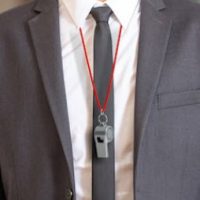 Over the last couple of decades, whistleblowers have acquired a higher profile in pop culture. There are countless television shows and films that tell the same story: a courageous whistleblower informs on their unethical employer, they experience harassment or even threats to themselves, but somehow it all works out in the end. In reality, whistleblowers are mistreated, harassed, and have their careers ruined when they try and do the right thing. However, you are not without protections if you choose to blow the whistle on unethical activity.
Whistleblowing Is Protected Activity
A whistleblower is a person who provides insider information about unethical or illegal activity to a state or federal government, often in what is known as a qui tam suit. There are many different types of whistleblower suits, over several different issues – for example, a whistleblower may report a lack of health and safety measures, or health care workers can report insufficient or inappropriate patient treatment. The person's information will be taken into account, and if fraud or unacceptable behavior is discovered, the whistleblower can recover a percentage of the ill-gotten gains.
When they volunteer their information, whistleblowers are exercising their rights to engage in protected activity. Both federal and New York law protects these rights as well, holding that employees are guaranteed the right to protest poor treatment, via several means like filing complaints or informing on illegal activity – however, an employer may not see things the same way, particularly if the whistleblower has cost the company money.
Retaliation Is Actionable
The number one issue whistleblowers experience after their participation in a lawsuit is retaliation, and that can come in many different ways. In theory, retaliation can be any negative employment action, from a pay cut to termination. However, every case is different, and sometimes it can be difficult to establish that negative employment action happened or is happening specifically because of your whistleblower status.
New York law bans retaliation against whistleblowers in most if not all situations, including against government employees, people who specifically report fraud against the government, and people who report workplace discrimination. If you suspect that you are experiencing retaliation nonetheless, consulting a knowledgeable attorney should be your first priority. Without legal assistance, navigating the process of filing a complaint can be difficult to manage, and the closure you deserve may slip away.
Contact A New York Employment Discrimination Attorney
Doing the right thing by informing the government about illegal activity should never subject you to mistreatment or discrimination, but too often, it does. If you suspect that you have been retaliated against due to your whistleblower status, a New York City employment discrimination attorney from Mansell Law, LLC may be able to assist you in determining how to seek justice. Call our offices today at 646-921-8900 for a free consultation.
Sources:
nysenate.gov/legislation/laws/STF/191
eeoc.gov/laws/guidance/enforcement-guidance-non-waivable-employee-rights-under-eeoc-enforced-statutes