What Is New York's Position On Unvaccinated People In The Workplace?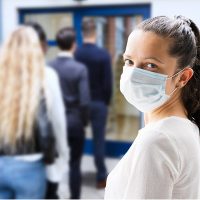 While U.S. numbers of COVID-19 cases still remain at an elevated level, some states are choosing to end mask and vaccine mandates, arguing that current variants are more "mild" and that such precautions endanger mental health. New York is rolling back some of its directives, but this does not include the vaccine requirements in place for municipal employees. In early February 2022, approximately 1,500 employees of the city were terminated over their refusal to get vaccinated against COVID-19. This has sparked threats of lawsuits, but New York law has ever been evolving on the issue.
Law Protects Classes Of People
The majority of New Yorkers (and indeed, U.S. residents) are employed at-will, which means that they can leave – or their employer can terminate them – at any time, for any reason, unless the termination meets one of a handful of legal exceptions. In general, the exceptions are in such situations where the termination would be against the law or public policy, such as being terminated in retaliation, or based on one's membership in a protected class. A protected class is a group of people who share a trait, which cannot then be used to discriminate against the class members.
Commonly protected classes include those of the same race, sex or gender, religion, national origin, or disability, among others. New York City's Human Rights Law recognizes several different classes of people as potentially in need of legal protection, even more than federal or state law. However, one "class" that is noticeably missing from these protections is unvaccinated people. Despite some discussion from pundits, the Equal Employment Opportunity Commission (EEOC) has ruled that employers have the right to mandate vaccination for their workers (except for in rare situations).
Interests Must Be Balanced
While the average person may not realize it, U.S. and New York law is historically built on a series of balancing tests between rights. While individuals have the personal freedom to choose in certain situations, employers also have the duty to guarantee (as much as possible) a safe workplace for their employees. Between those two interests, U.S. courts and government agencies have solidly come down on the side of allowing employers to mandate proof of vaccination – failure to do so may open them up to future liability, or even to a loss of profit. The City of New York is simply following suit.
There is one important exception to employers' right to mandate vaccination, and that is if an employee has a condition or characteristic that entitles them to ask for a reasonable accommodation. For example, some religions have a prohibition against vaccines, or against vaccines with certain ingredients. In this situation, if at all possible, an accommodation must be reached, or the employer may risk a lawsuit filed against them on the basis of discrimination under the Human Rights Law, or the federal Civil Rights Act of 1964.
Contact A New York Employment Discrimination Attorney
The COVID-19 pandemic is not over, despite many people's fervent hopes, and the law continues to evolve in terms of what employers can and cannot do to keep their employees safe. If you have questions about your workplace rights, contacting a New York City employment discrimination attorney from Mansell Law, LLC may help to get them answered. Contact our offices today at 646-921-8900 for a free consultation.
Sources:
eeoc.gov/newsroom/eeoc-issues-updated-covid-19-technical-assistance
abcnews.go.com/Health/1500-nyc-municipal-workers-fired-vaccinated-covid/story?id=82900617