What Constitutes "Reasonable" Accommodations At Work?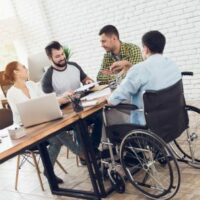 The Americans With Disabilities Act (ADA) and other laws that govern behavior in the workplace all mandate reasonable accommodations must be provided for employees who require them, provided that it would not be an undue burden to do so. However, the word "reasonable" is a highly subjective one, and its meaning changes not only from employer to employer, but from employee to employee. If you are in need of reasonable accommodations and are not getting them at work, it is important to understand exactly what "reasonable" may mean under the law.
Definition Of "Reasonable" Is Expansive
There are many different reasons why employers try to refuse accommodations, despite their obligation to provide them in most cases. Some simply want to save money. Others labor under the misapprehension that employees seek "special" accommodations – in reality, employees are only entitled to accommodations that help them to perform their job duties, nothing more. Regardless, New York law does not permit employers to refuse accommodation requests unless they would pose an undue burden to the company.
Any action that helps an employee to perform the duties of their position may be considered "reasonable" if the company can afford it and make it work. Examples include:
Schedule changes;
The use of a service animal (that complies with all the relevant laws);
Ear or eye protection that other employees may not feel is necessary;
Reassignment to a lower-impact position;
Assistive technology; and
Ensuring an accessible office, either by moving it to an accessible location or providing options for access such as keys to an elevator.
An employee need not affirmatively ask for a specific accommodation, but any request must be clearly linked to the presence of a disability or medical condition.
State & City Law Have A Higher Burden
If you are in need of a reasonable accommodation to help you perform your job, New York law has more requirements than federal antidiscrimination law, for both employers and employees. Both the state and city Human Rights Laws require that an employer engage meaningfully in a 'cooperative dialogue' with an employee who seeks accommodation, and failure to do so can be grounds for a formal complaint. New York City's Human Rights Law actually requires an employer who denies a request for accommodations to provide a written explanation of denial, though the state HRL does not require this specifically.
If you believe that you have experienced discriminatory conduct along with your accommodation request, you can file a complaint with the New York authorities, or you may be able to file a charge with the federal Equal Employment Opportunity Commission (EEOC). There are advantages and disadvantages to both, but perhaps above all, it is worth noting that New York State and New York City law require more of employers, and have a lower evidentiary threshold to establish conduct as discriminatory. Either way, having experienced legal help on your side can make all the difference.
Contact A New York Employment Discrimination Lawyer
Employers are not permitted to discriminate against disabled employees or potential hires, at any time, for any reason. Failure to reasonably accommodate a disabled worker may be grounds for agency action or even a lawsuit. A New York City employment discrimination attorney from Mansell Law, LLC can be the difference between success and failure when navigating the legal nuts and bolts – call our offices today at 646-921-8900 to schedule a free consultation.
Resources:
dhr.ny.gov/complaint
dhr.ny.gov/sites/default/files/pdf/466-11-and-Appendix.pdf