The Basics Of Disability Discrimination In New York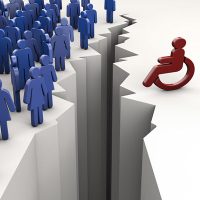 The Americans With Disabilities Act (ADA) was signed into law in 1990, but in this day and age, far too many employers have difficulties accommodating disabled applicants and employees who simply want to earn a living. The law prohibits most employers, as well as state and local governments, from discriminating against disabled people in all areas of the employment prospects. However, it is not always easy to identify whether you are being discriminated against. An experienced attorney may be able to help clarify matters.
Common Patterns Of Behavior
While every case is different, there are some common patterns of behavior that have been classified as discriminatory, such as:
Not hiring, or terminating, a disabled applicant or employee for the mere act of seeking reasonable accommodations;
Refusing accommodations that would not be an undue burden on the business;
Refusing temporary paid or unpaid leave that an employee is entitled to take; and
In general refusing to acknowledge that disabled employees are entitled under law to reasonable accommodation.
It is crucial to understand that the ADA protects "qualified [people] with disabilities" – in other words, people who can perform the essential functions of the job with or without accommodations. It does not mean that any disabled person should automatically be given a job for which they lack qualifications. That said, it is all too easy for some employers to simply decide a disabled applicant will lack qualifications without a proper investigation of their credentials.
Seeking Compensation
If you believe that you have experienced disability discrimination in hiring or employment, you have options in terms of how to seek redress. The federal Equal Employment Opportunity Commission (EEOC) may be your best bet, but in New York State or New York City, many choose to file these claims under the respective Human Rights Laws (NYSHRL, NYCHRL). Every case is different, so the best option for you may differ.
Many do prefer to file under the NYSHRL or NYCHRL because both the state and city laws allow discrimination claims to be filed under more relaxed standards than the federal ADA. For example, since an amendment in 2019, the NYSHRL must be liberally construed, in order to "maximize deterrence of discriminatory conduct." In addition, "reasonable accommodation" is more broadly construed than it is under the federal ADA, giving more people the chance to get a fair shake under the law.
Contact A New York City Employment Law Attorney
Disabled people have the same right to earn an income as able-bodied people, and they deserve the same rights during the employment process. A New York City employment discrimination attorney from Mansell Law, LLC can help answer any questions or manage any concerns you may have about a possible ADA claim. Call our office at 646-921-8900 for a free consultation.
Sources:
casetext.com/statute/consolidated-laws-of-new-york/chapter-executive/article-15-human-rights-law/section-300-construction
dol.ny.gov/americans-disabilities-act