Should I Opt Into A Class Action Employment Discrimination Lawsuit?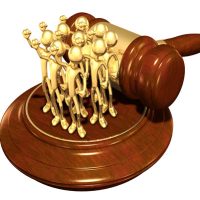 Sometimes, employers will adopt a company-wide policy that proves to be discriminatory toward a specific class of people. In this situation, a class action lawsuit will often be the most efficient tool to use in trying to change the workplace. However, the average employee will very often be unsure as to whether they should join a class-action (or opt out, depending on the nature of the suit). It is important to understand just what a class-action lawsuit may do and what it cannot do before going ahead.
Why Join A Class Action Lawsuit?
It is very common for an average worker to find themselves subjected to poor treatment at work, and to tolerate it because they believe they are the only one, or that the behavior is a mere inconvenience, rather than being actionable. However, if several workers are experiencing the same treatment, what might be a minor issue for an employer can quickly morph into a significant problem if all the workers act together.
The advantage of a class action lawsuit is that many similarly situated workers can have their cases heard essentially all at once, instead of having to file individually and wait months or years for a disposition. A class must meet certain requirements (in New York or in federal court) in order to be 'certified' and for the class action to proceed – for example, there must be too many members for individual cases to be practical, and the chosen representatives must "fairly and adequately" represent the class's interests.
Why Not Be Part Of A Class?
It is not strictly required for every affected worker to be a part of a class action lawsuit – you may want, for example, to file your own individual suit, and one cannot do both because it would result in a double windfall if you were successful in both endeavors. However, most of the reasons workers give for opting out of class action suits are myths or misunderstandings. For example, many decline to participate because they fear that their credit might be adversely affected, when this simply does not have a basis in reality.
In short, class action lawsuits are the manifestation of strength in numbers; they are designed to give the 'little guy' a chance to seek the justice they might otherwise be denied. It may feel safer to avoid being a part of such an enterprise, but depending on your specific situation, it may be more beneficial in the long run to stay in the class and see what happens.
Contact A New York Employment Discrimination Attorney
Whether you have decided to join or start a class-action lawsuit, or whether you want to file suit individually against an (allegedly) discriminatory employer, contacting a New York City employment discrimination attorney from Mansell Law, LLC is a good first step. If you have questions or concerns about employment discrimination, call our offices today for a free consultation.