Obtaining Reasonable Accommodations In New York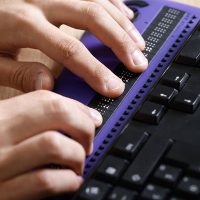 Most of the time, discussing "reasonable accommodations" in a workplace context applies to disabilities, though there are other characteristics for which accommodations can be requested. However, the concept of which accommodations are "reasonable" will vary from employee to employee and workplace to workplace. Both federal and New York state law have benchmarks that employers must abide by, but it is still possible for a reasonable accommodation to be denied unjustly.
Federal vs. State
Federal law allows reasonable accommodations to be sought, primarily in two specific cases. The first is disability (which includes pregnancy, under the Pregnancy Discrimination Act addition to the Civil Rights Act of 1964). The federal Americans With Disabilities Act (ADA) was passed in 1990, and prohibits discrimination in the workplace against anyone who meets the law's definition of disabled. The second is religion; accommodations can be requested under the aegis of Title VII of the Civil Rights Act.
New York's law reaches more groups. In addition to laws permitting reasonable accommodation on the bases of religion and disability (including pregnancy, which New York law views as a temporary disability), the New York Human Rights Law also holds that people who have been the victim of domestic violence, stalking, or sexual misconduct may seek reasonable accommodations in their work schedule or with a certain aspect of their job. Failure of an employer to even consider this can leave them open to legal action.
What Is "Reasonable?"
If you are in need of accommodations from your employer in order to perform your job, your employer must at least consider your proposal (the law calls it "having an 'interactive dialogue'"), but they are not required to give their consent if the accommodation would be an undue burden on their business. The key term is "undue burden" – it may impose some level of burden, but not to an unreasonable degree. For example, giving a devout Jew Friday evenings off so they can attend Shabbat services may not be a problem for a large company, but for a small business of 3-4 employees, it would possibly be too much to ask.
If your employer declines an accommodation request you believe is reasonable, or if they refuse to engage with your request at all, you do have options in pursuing your legal rights. You have the right to file a complaint with the New York Human Rights Commission, or, if you feel it would be more appropriate, with the federal Equal Employment Opportunity Commission. Be advised that the time in which to file the complaint is finite – usually within 1 year of the alleged discrimination.
Contact A New York Reasonable Accommodations Attorney
If you are disabled, or if you have another characteristic that entitles you to request reasonable accommodations, you have the right for those requests to be considered. A New York City reasonable accommodations attorney from Mansell Law, LLC can help you clarify your situation and to decide what way forward is best for you and your loved ones. Contact our offices today at 646-921-8900 for a free consultation.
Source:
ada.gov/ada_intro.htm