Is My Work Environment Hostile?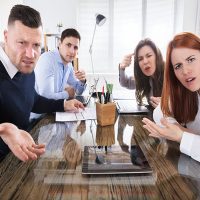 It is all too easy for anyone who may experience negative interactions at work to argue that their work environment has become hostile. However, a true "hostile work environment" must meet several specific criteria under both New York and federal law, and even if your current position fits that bill, it may not be easy to recover money damages. If you have questions or concerns about these issues, consulting an experienced attorney can make all the difference.
A Pattern of Conduct
Both state and federal law prohibit behavior that establishes a hostile working environment, though each tends to define it slightly differently. Generally, a hostile work environment exists when someone is subjected to "unlawful discriminatory practices" based on protected characteristics, such as race, religion, or national origin (among others). Offensive conduct may be unwelcome, but isolated incidents of jokes, pranks, or teasing generally are not severe enough to argue that a hostile work environment exists.
It is important to keep in mind that contrary to popular belief, the discriminatory conduct does not necessarily have to come from a superior, nor does it have to be directed specifically at the plaintiff. It is possible to bring a claim for a hostile work environment stemming solely from witnessing discriminatory treatment of other people, because that type of behavior can still adversely affect your performance and well-being while on the job. Whether about you or someone else, you have the right to seek redress if your performance has suffered.
Filing Suit
If you believe that you have been subjected to a hostile work environment, the first thing you should attempt to do is to communicate with your employer to try and rectify the situation. Your Human Resources department may be able to help you reach a middle ground – but if not, you have two possible options with which to seek legal redress for what you have been through. You can file a complaint with the New York Commission on Human Rights, or you may file a complaint with the federal Equal Employment Opportunity Commission (EEOC) if you feel that the conduct in question breaches federal law.
In general, you may have a claim to a hostile work environment if you can establish one of two things: (1) that enduring the offensive conduct is a condition of future employment; or (2) that the conduct is "severe or pervasive" enough to create an environment that reasonable people would consider hostile. However, in New York, workers are simply protected from harassment on the basis of any protected class – the conduct need not be "severe or pervasive" – though an employer may defend themselves and argue that the behavior did not rise beyond "petty slights or trivial inconveniences."
Contact A New York Employment Lawyer Today
It can be difficult to determine whether or not certain conduct actually rises to the level of a hostile work environment. That said, if you believe that you have been subjected to a work environment that the average person would find unwelcoming or hostile, you have the right to file a complaint with the relevant authorities. A New York City hostile work environment lawyer from Mansell Law, LLC can help you determine whether or not you have a case, and how best to guide it through the legal system. Call our office today at 646-921-8900 for a free consultation.
Source:
dhr.ny.gov/workplaceharassment