How is disability discrimination dealt with in New York?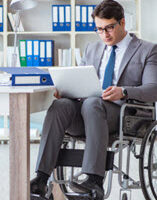 The Americans With Disabilities Act (ADA) is a federal law that prohibits employment discrimination on the basis of disability or perceived disability. It is enforced by each state, New York included, in tandem with the state's own antidiscrimination provisions. The ADA is the law that a disabled person will generally cite if they believe they have been discriminated against at work – however, it can be quite confusing determining whether it or state or city antidiscrimination laws are the best suited for your case. Contacting an attorney can help clear up any questions.
Who Does The ADA Protect?
The definition of disability under the ADA is very specific, and if your case meets the criteria, you may claim all the protections available under the law. A disability is defined as a physical or mental impairment that "substantially limits" one or more major life activities, such as walking, standing, sleeping, or caring for oneself. However, it can also apply to people who have a record of such an impairment (though they may not have it currently), or who are regarded as having such an impairment.
It is important to keep in mind that the ADA protects 'qualified' employees with disabilities, meaning those who (1) meet the requirements of the position they hold (or are applying for); and (2) can perform the 'major functions' of the position, whether they have reasonable accommodations or not. Reasonable accommodations are meant to make work easier, rather than making it possible for those who otherwise could not.
Am I Covered?
The ways in which someone may be discriminated against at work due to their disability are diverse, but many of them revolve around the acceptance or rejection of requests for reasonable accommodations. The ADA covers employers with 15 or more employees, and defines a reasonable accommodation as one which would not put an undue burden on the employer. If an accommodation would not impose undue hardship, an employer must provide it.
New York state antidiscrimination law covers a wider range of employers, requiring businesses with 4 or more employees to abide by its provisions. In addition, both New York State and City disability rights laws define disability more widely than the ADA does, possibly granting more causes of action under which to file a complaint against your employer. Each case is different, and federal law may be more appropriate for your case than state or city law (or vice versa), but it is important to be aware of what your options might be.
Call A New York Disability Discrimination Attorney
Disabled people deserve to work and be productive members of society. If you feel as though your employer or prospective employer is discriminating against you on the basis of your disability, you have the right to seek compensation for what you have been through. The New York City discrimination attorneys at Mansell Law, LLC have years of experience in handling these types of claims, and will work hard to ensure that yours is properly heard. Contact our office today via our website, or by phone at 646-921-8900, for a free consultation.
Resource:
adata.org/faq/what-definition-disability-under-ada