Executive Compensation In New York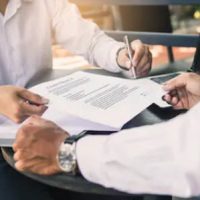 The majority of employees in New York do not sign an actual contract upon their beginning a new job, though they may sign other onboarding paperwork. That said, this is less common for those who have more years of experience in the industry, or who have unique expertise to offer an employer. Executive positions usually come with written employment contracts, at least in New York, and understanding your rights and responsibilities before signing your name is crucial, lest you agree to something you may not wish to accept.
High-Level Benefits, High-Level Responsibilities
While the average person may think that hiring an executive-level employee uses the same process as hiring an entry-level employee, in reality, a potential executive hire has the experience and/or talent to merit high-level, complex negotiations regarding both the potential executive's compensation and the job description required by the employer. A new executive hire will generally be offered competitive and attractive benefits to entice them to sign on with the company.
Executive compensation is generally at a high level, both because the competition for executive talent is fierce, and because executives are expected to make extremely significant decisions that can affect hundreds or even thousands of employees. There are certain trade-offs – for example, executive employees are generally exempt from overtime pay – but New York law mandates a certain level of compensation for employees in general.
Potential Disputes
Despite the possible complexity of executive-level negotiations, the two sides can generally arrive at an acceptable middle ground, allowing an employment contract to be created. However, the agreement must conform to New York and federal law in terms of being fair and equitable, regardless of how much compensation may be involved. Any kind of discriminatory intent or practice may make the agreement unenforceable, either under the New York Human Rights Law (NYHRL) or federal laws like the Americans With Disabilities Act (ADA).
Another potential issue that may appear is the existence of a non-compete or a non-solicitation provision. A non-compete clause prohibits a departing employee from establishing a competing business within a certain period of time or geographical area, and while they are legal in New York, they are 'disfavored' because most of them overreach. An employee has the right to earn a living, and too often, a non-compete provision will effectively be a restraint on trade (which is almost always unlawful).
Contact A New York Executive Employment Attorney
An executive compensation agreement is a complex and delicate instrument, requiring the right legal help to negotiate appropriately. If you have questions or concerns about a potential executive position, contacting a New York City overtime exemption attorney from Mansell Law, LLC may help to clarify your options. Call our office today at 646-921-8900 for a free consultation.
Source:
dol.ny.gov/system/files/documents/2021/03/executive-employee-overtime-exemption-frequently-asked-questions.pdf