Explaining New York Non-Compete Agreements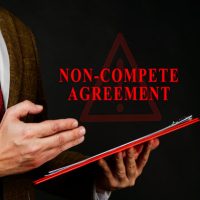 Most executive employees are considered to be reliable hard workers, and are prized accordingly. However, given their often-specialized knowledge, sometimes they are viewed with suspicion when they depart a company. These employees are seen as so talented sometimes that employers historically would try to regulate their ability to earn a living elsewhere. These "non-compete" agreements are generally frowned upon in New York, but they will sometimes appear nonetheless.
Designed To Protect Employer Interests
Non-compete agreements are designed to restrict a departing employee from poaching clients or using trade secrets to make money in a new endeavor. Ostensibly, these agreements are intended to protect the interests of the employer, but too often, the tenets of these provisions go too far. Both New York and federal law forbid contracts or instruments that act as restraints of trade, and many times in the past, non-compete agreements have been held to fall under this heading.
It is important to keep in mind that legally, an employee cannot be forced to sign a non-compete agreement, but it is permissible for an employer to make its signature a condition of employment. The assumption is that a person may simply find another job elsewhere (which may not always be realistic, but nonetheless). There have been proposed bans on non-compete agreements before, though as of this writing, the most recent one stalled in committee in the state Senate.
Non-Compete Agreements Can Be Enforceable
Currently, non-compete agreements are considered legal in New York under a very specific set of circumstances. They are:
The agreement is "necessary" to protect the employer's "legitimate" business interests;
It does not pose an "undue hardship" on the employee;
It is "reasonable" in terms of its time and place restrictions; and
It does not harm the public.
It is worth noting that it is possible for some parts of a non-compete agreement to be invalid or unenforceable, and some to be valid. Courts will generally acknowledge severability in non-compete agreements, even if there is no specific severability provision, because the enforceable provisions are usually seen as appropriate in protecting the employer's (or employee's) interests.
Call A New York Employment Lawyer
If you are an executive-level employee, being required to sign a non-compete agreement can feel alternatively flattering and frustrating. If you have questions or concerns about your agreement, calling a New York City employment contract lawyer from Mansell Law, LLC may help to get them managed. Contact our office today at 646-921-8900 for a free consultation.
Source:
casetext.com/statute/consolidated-laws-of-new-york/chapter-general-business/article-22-monopolies/section-340-contracts-or-agreements-for-monopoly-or-in-restraint-of-trade-illegal-and-void