Can I be discriminated against based on my hairstyle?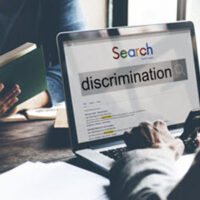 Numerous instances of discrimination based on hairstyle have been in the news in recent years, wherein people of color have been denied opportunities or punished because of a perception that their natural hair is unkempt or dirty. Courts have been unsympathetic to these claims of discrimination so far, but some states are choosing to enact legislation to ban this specific type of mistreatment that adversely affects people of color. New York joined California in passing a statewide ban on hair discrimination in July 2020 (New York City previously banned the practice in February of the same year), but people will still discriminate, whether out of malice or ignorance. If you believe you have been discriminated against, contacting an experienced attorney is a good idea.
Disproportionately Affects Women Of Color
New York State's ban on hair discrimination is an amendment to its 2012 Human Rights Law and Dignity for All Students Act, explicitly specifying the practice as falling under the umbrella of race-based discrimination. It is considered a version of California's CROWN Act ("Create A Respectful and Open World For Natural Hair"), which is a law that bans hair-based discrimination in employment, education, and any other field where implicit or explicit bias could deny a worthy candidate a chance.
This may not register on the average white person's radar, but it affects people of color, especially Black women, profoundly. Studies by DOVE and the CROWN Coalition have shown that Black women are 80 percent more likely than non-Black women to change their natural hair in the hope of fitting in at work. They are also roughly 1.5 times more likely to be sent home by bosses because of perceived faults in their appearance. This can cause perceptions of unprofessionalism in Black women, when in reality, the problem is the double standard imposed and the labor performed by them trying to conform to an unjust standard.
If You Face Discrimination
Hair discrimination is unlawful in New York City and State, but you may face it anyway. If you do, it is important to understand what exactly this means. Generally, an employer can enforce appearance restrictions if they can be reasonably related to safety – for example, an employer may require a Sikh man to wear a hairnet over his beard, but they cannot generally force him to cut it off, because doing so would not be the least restrictive way to establish a safe workplace.
If you believe that your interactions with your employer have been rooted in discrimination, you have several options for how to deal with the issue. The New York City Human Rights Law (NYCHRL) or the state Human Rights Law may establish grounds, but it is important to keep in mind that you must act within a certain period of time. New York law requires that an employee with allegations of discrimination must first file a charge with the Equal Employment Opportunity Commission (EEOC), and when the agency grants the Notice of Right-to-Sue, then the employee has 90 days in which to file suit in the appropriate New York court.
Call A New York City-Based Employment Discrimination Attorney
New York has been a vanguard in ensuring that workplaces are safer for workers of color – but there are always employers who persist in engaging in unethical and inappropriate behavior. If you are being discriminated against on the basis of your hair texture, consulting an experienced New York City employment discrimination lawyer may help you decide how best to proceed. Contact Mansell Law, LLC today via our web form or on the telephone for an initial consultation.
Resources:
eeoc.gov/filing-lawsuit
assembly.state.ny.us/leg/?default_fld=&bn=A07797&term=2019&Summary=Y&Actions=Y&Text=Y&Committee%26nbspVotes=Y&Floor%26nbspVotes=Y
usatoday.com/story/sports/highschool/2019/09/18/wrestler-dreadlocks-controversy-new-jersey-referee-suspended-two-years/2367239001/
usatoday.com/story/news/nation-now/2018/08/16/florida-school-faces-backlash-rejecting-6-year-old-dreadlocks/1010132002/
https://www.newyorkcity-employmentlawyer.com/have-i-been-misclassified-by-my-employer-and-how-does-it-affect-me/